Elvis Presley slept with Marilyn Monroe within minutes
Posted by George on October 2nd, 2006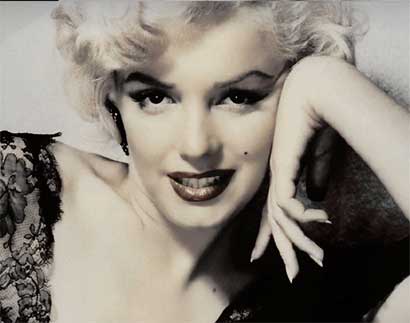 Marilyn Monroe must have been an easy girl to get into bed, because it only took Elvis Presley a few minutes after meeting her to get her into bed. According to Elvis's former agent, Byron Raphael, the hook up all started after Monroe refused to date Presley for a publicity stunt. After being turned down, Elvis instructed Byron to bring Monroe to his hotel room at the Beverly Wilshire hotel.
When he saw her, they came together and, without saying a word, started kissing. I was in shock and I didn't know what to do. Then Marilyn, who was 10 years older, said, 'You're pretty good for a guitar player.'

After two minutes, they went into the bedroom and I didn't know if I was supposed to leave, or stay and wait for them, so I just dozed off. The next thing I knew I was startled awake by the door opening and I dove behind the bar. And they both walked out stark naked.
On top of being easy to sleep with, Monroe was also cheated on her husband Arthur Miller. Monroe must have been the Dirty Girl of that era.
Related Today