Pamela Anderson and Kid Rock getting married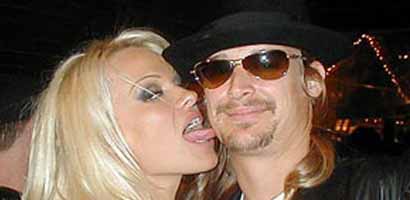 OMG, Pamela Anderson and Kid Rock are getting married! Who knew they were still together? Pamela writes about the coming marriage on her official site:
Yes. I'm finally getting remarried…it's been a whirlwind…spontaneous but well thought through. Feels like I've been stuck in a time warp. Not able to let go of MY family picture…it's been sad and lonely and frustrating….I've raised my kids alone in hope of a miracle. Well my miracle came and went. And came back and came back because he knew that I'd wake up one day and realize that I was waiting for nothing. I'm moving on…I feel like I'm finally free….I'm in love. I'm happy….I see the light…sounds dramatic but it's true…..I know some women can relate to this….My children are getting older. They know the truth and they are strong, smart kids. They love their Dad. They love their new Step Dad who they've known for years…time will pass. Wounds will heal. Some people may never grow up. Actions speak louder than words….watch!
We can assume Pamela is referring to ex-husband Tommy Lee as a person who will never grow up.
Related Today