Michael Douglas gets pissed on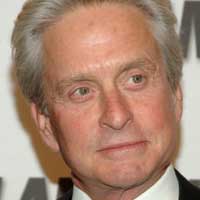 Actor Michael Douglas received a golden shower while on vacation in Majorca, Spain with son Dylan. During the vacation at the beach, Michael was stung by a jellyfish and had to ask Dylan to piss on his back. Michael explains:
I took my kids down to the ocean the other day and we had a little problem – we have jellyfish. I got stung actually pretty bad, across my back just last week. There's sort of a remedy that we've all heard…urine. It's the remedy if you have a bad sting.

So I asked my five-year-old son if he would pee-pee on my back. He looked at me like he'd gone to heaven. He was like 'This is what I call a good summer holiday! Pee-pee on daddy's back!' I don't know if it helped at all, but my son was happy. We'll work it out in 20 years (when he's in therapy)!
That must have been the highlight of Dylan's five year life.
Related Today