Italy wins 4th World Cup title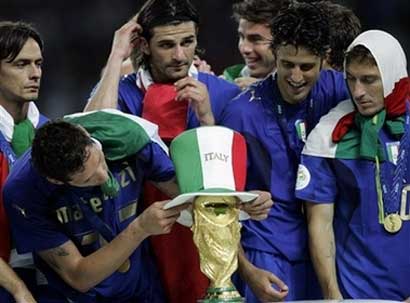 The Italians win their 4th World Cup championship.
The beautiful game turned vicious, even venomous Sunday. It was all still beautiful to Italy. And very ugly for France, which lost captain Zinedine Zidane with a red card after his nasty head butt in extra time, and then went down 5-3 in a shootout after a 1-1 draw.

Explanations were nonexistent for Zidane's action in the 110th minute of his farewell game. He was walking upfield near defender Marco Materazzi when, in his final act for his national team, he bashed his shaven head into Materazzi's chest.
The only team with more wins is Brazil, with five championships.
[AP]
Related Today