James Bond's new Aston Martin DBS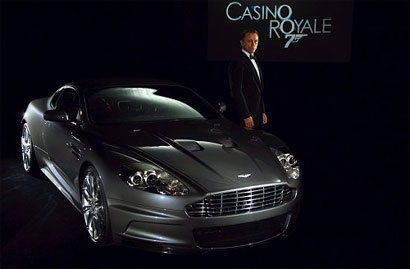 The Aston Martin supercar that James Bond will be driving in the upcoming Casino Royale, releasing in November 2006.
Aston Martin Design Director, Marek Reichman, said:
This car encapsulates a link between our elegant DB9 road car and the powerful DBR9 race car. It signals an evolutionary development of Aston Martin's world renowned style and elegance.

While hinting at our future design direction, the DBS also has very clear links with our heritage – it is instantly recognisable as an Aston Martin.
Aston Martin's Chairman and CEO, Dr. Ulrich Bez added:
The DBS continues our proud and lengthy association with James Bond. The DBS is not of the understated elegance of a DB9, nor the youthful agility of the V8 Vantage. It is explosive power in a black tie and has its own unique character which will equal that of James Bond.
Related Today