Angelina Jolie to buy country?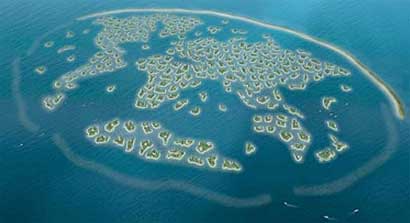 It is being reported that Tomb Raider star Angelina Jolie is planning to buy herself a country in the shape of Ethiopia, that will be located in Dubai. The countries are being constructed by Sir Richard Branson.
Jolie is reported buying it to create a fair trade paradise for hundreds of needy people from Africa. A source says:
Angelina has been obsessed with Ethiopia ever since she adopted her second child Zahara from there. Her friends are very jealous of her purchase.
Why do I have a feeling this story is just plain wrong. Maybe its the fact that Branson is not the person that is creating The World Island, it is being made by Al Nakheel Properties in Dubai. That's also the company that created the Palm Islands of Dubai.
Related Today